I love it when my kids ask "Can I put this tape on my mouth?". `Cause then I can say, "Ya!! That`s a REALLY FUN game!" I think next time I`m gonna show em how fun the 'GET TIED UP' game is, or my favorite when I was a kid 'LOCKED IN THE CLOSET'.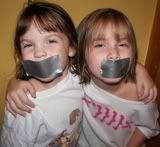 I think my weiner dog needs to see a Doggy Psychiatrist. Today he hopped up on the coffee table and took a nap, with a perfectly good dog bed 6 feet away.
Other than that my day was really uneventful. I did play some poker, placed 2nd in a turbo $6 sng and 6th in a tier 1. I was disappointed in the tier 1, but I made a bad call then lost a hand I was ahead in... c`est la vie. I did get a nap today so I`ll pry play more later!!
My kids made a friend in the neighborhood, her name is Stephanie and she looks about 12 or 13 but has a little brother who is 5 yrs. The girls like Stephanie better, and I think Stephanie likes being looked up to. So, it works out.
My sister is getting a new Hybrid Camry today. *totally jealous* But she is getting rid of the JEEP!!! CRAZY WOMAN!! We shoulda just traded my mini van for her Jeep, but I don`t think she woulda went for that. The Jeep I will miss as I did get to partake of the Jeep fun while on vacations and things. Good bye fun Jeep, you will be missed. Damn kids.